2020/04/14
The New Game Changer: T05 Ergonomic Chair

We're excited to reveal our real game changer for 2020 in our gaming chair lineup: the T05.
An ideal ergonomic chair should fulfill your desire for seat ventilation and comfort.
With unique mesh chair design, T05 has no decorative frame or back shell, no unwanted foam, no PU leather, no compromise.
Just the refreshing seat experience brought by pure meshed surface, and worry-free safety guaranteed by top-notch components.


Sheer Mesh Pleasure

The T05 applies just Matrex mesh to its main surface - instead of using PU leather decoration and foam cushion for the legs you would find on other gaming ergonomic chairs. The mesh surface has passed TB117-2013 flame resistance test and BS5852 fire retardancy standards for ensuring user safety.

More than premium meshed surface, T05 also utilizes patented molding technique to create a unibody frame construction with mesh fabric embedded, which greatly enhances tightness between the mesh fabric and frames.

Compared with the traditional screw and nail fixing, molding technique can effectively prevent the mesh surface from loosening after long-time service.
Extremely Breathable
Considering to possibility of having air conditioners or fans behind the seat, the frame of T05 was engineered to achieve unrivalled air permeability. It turns T05 into a robust chair allowing heat and moisture to dissipate rapidly.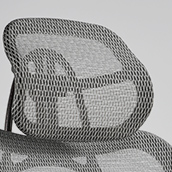 XL Meshed Headrest
Strong support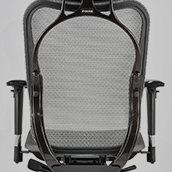 O-Type Frame Structure

Solid and breathable
Fully Meshed Seat Surface
No unnecessary foam


Multifunctional Mechanism

Enjoy reclining, tilt angle locking and rocking on T05 with peace of mind. Adjust seat depth as you want to make the seat fit you better. Metal multifunctional mechanism simply makes the entire chair more customizable and stable.


Adjustable Back

Relax and recline for additional 27 degrees of 4-level lockable back tilt angle and enjoy switchable dynamic back rocking function.Whether you're focused and immersed in work, or indulging in intensive gaming session, T05 puts you in a position of comfortable commanding angle.


Enhanced 4D Armrests

The beloved XL 4D armrests on high end gaming chairs just got a proper level-up with lock function on T05. Now the armrests will just stay where they are until you press and hold the adjustment unlock button.

The armrests are adjustable in 4 different ways:Up / Down, Left / Right, Forward / Backward, Inward / Outward.


Made in Taiwan

T05 is designed and made in Taiwan in order to build a perfect seat with precision tooling and advanced technology, with strict quality control.While having ergonomic shape, the T05 and its gas lift are BIFMA certified and seat cushion impact resistance test passed.
The insistence - on where T05 should be built from the ground up - originates from the highest pursuit of quality and safety.We believe this is the only way to create a captivating ergonomic chair just for you.

Brilliant From The Inside Out

Other than refined inner details and premium components, the scarlet carbon frame and nameplate showcase your extraordinary individuality and taste in low profile.
If you're interested in the T05, please go for our authorized reseller or consider contacting us for further information.